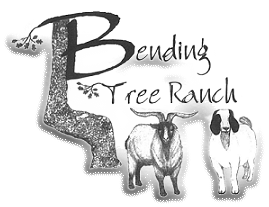 All images/artwork on this website are the property of Bending Tree Ranch and may not be reproduced without written permission.
Copyright © 2001-2015 All Rights Reserved


Welcome to our Boer Kid Page
Our breeding program is geared around breeding well muscled, meaty, hardy, yet,
show worthy animals. We specifically breed for the 4-H and FFA Market Goat
program and have produced many Grand and Reserve Market Champions.
Unlike others we don't have to publish a "count" of champions
as our repeat sales are proof of the quality produced here.
If you do not see what it is you are needing in your program, drop us an e-mail using
the link at the bottom of each page. Due to time constraints our site is not
always "up to date" with what all animals are available.
Thank you for looking and good luck in your goating endeavors.
SHOW WETHER PROSPECTS FOR 2012 SHOWS



Come on in and visit a while and check out some of our breeding stock and kids.
Visits in person to BTR are welcome too.
Just drop us a line or give us a phone call to set up a convenient time.



Bending Tree Ranch
Damascus, AR
Phone: 501-679-4936
bendingtreeranch@cyberback.com