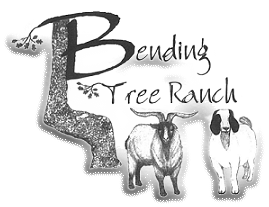 All images/artwork on this page are the property of Bending Tree Ranch or Onion Creek Ranch and
may not be reproduced without written permission. Copyright İ 2001-2018 All Rights Reserved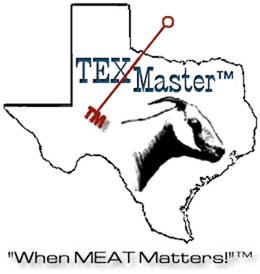 There has been a LOT of speculation about what constitutes a TexMaster™ goat.
The formulary for creating the breed is proprietary to Onion Creek Ranch.
However, I can tell you that it is NOT a 50% Myotonic, 50% Boer cross
and folks selling you these crosses and calling them TexMasters™ are deceiving you.
In order to protect yourself you need to ask to see the Pedigree International Registration papers on the animals you are interested in.
They must trace back to Onion Creek Ranch or Bending Tree Ranch genetics.
If the seller cannot provide this information to you then you are NOT
purchasing true TexMaster™ Meat Goats but a Myotonic/Boer cross goat.

What exactly *is* a TexMaster™ Goat?
Recognizing the need for a MEATY goat to meet the needs of the commercial demands..........one that is lower maintenance, better feed utilization, excellent mothering skills, and kids that are up and finding that teat within minutes after birth, Onion Creek Ranch began crossing their Tennessee Meat Goat™ quality Myotonic bucks over Boer and Boer/Myotonic cross does. After several generations of crossings the TexMaster™ breed was developed. The resulting composite breed is significantly Myotonic, with just enough Boer to add a bit of faster growth. The precise breeding formula is proprietary to Onion Creek Ranch. TexMasters™, like Tennessee Meat Goats™, may be registered with Pedigree International.

Dr. Lou Nuti of Prairie View A&M University's International Goat Research Center north of Houston, Texas, has completed research proving a 6% to 10% greater meat yield is achieved by using a Myotonic buck on other-breed does. This means less waste and more money in the producer's pocket.
Bending Tree Ranch is pleased to be associated with Onion Creek Ranch near Lohn, TX. We not only raise our own "Top Quality" Myotonic, Tennessee Meat Goat™ quality Myotonics and TexMaster™ goats from OCR stock, but we also have a selection of OCR bred goats available at our ranch for you to choose from. Both the TMG™ and the TexMaster™ goats were developed exclusively by Onion Creek Ranch to meet the demands of the meat goat industry. Whether you want a "Top Quality" Myotonic, TMG™ quality Myotonic or a TexMaster™, we think you will be pleased with what you see here.

If you are looking for the PREMIER Meat Goat for slaughter then these are the breeds for you. Less bone and waste and more meat than any other breed. Hardy, parasite resistant, excellent mothering skills and milkers, these "Top Quality" animals are the way to steer your breeding program.
NEW Article...............
What is a TexMaster™ and WHY Should I Own One???

We are thrilled to have completed our first export into Canada in 2009 and again in 2011.
Canadian customers we welcome your business and look forward to helping strengthen
your gene pool with our genetics. At this time we can only export bucks.
Please visit the TexMaster Meat Goat website
TexMaster™ breeding stock is registered in the TexMaster™
herdbook at Pedigree International


Bending Tree Ranch
Damascus, AR
Phone: 501-679-4936
bendingtreeranch@cyberback.com