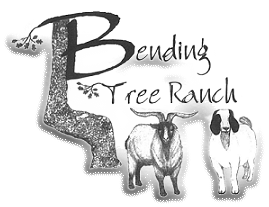 All images/artwork on this website are the property of Bending Tree Ranch and may not be reproduced without written permission.
Copyright © 2001-2014 All Rights Reserved

Welcome to our Boer Page

Our breeding program is geared around breeding well muscled, meaty, hardy, MEAT
goats. Our Boers are not pampered, fed heavily or pushed
with high protein feeds. We expect our does to
conceive, birth and raise their own kids with a minimal amount of help
from us.
---

We are no longer raising fullblood Boers. We do still have nice percentage does that
are used for our show wether breeding program.
---


Here are a few of our does:
We register all our Boer breeding stock with the American Boer Goat Assn.
Visits in person to BTR are welcome. Just drop us a line or give us a phone call to set up a convenient time.




Bending Tree Ranch
Damascus, AR
Phone: 501-679-4936
bendingtreeranch@cyberback.com